Painting 2001-2013 (selection)
<![if !vml]>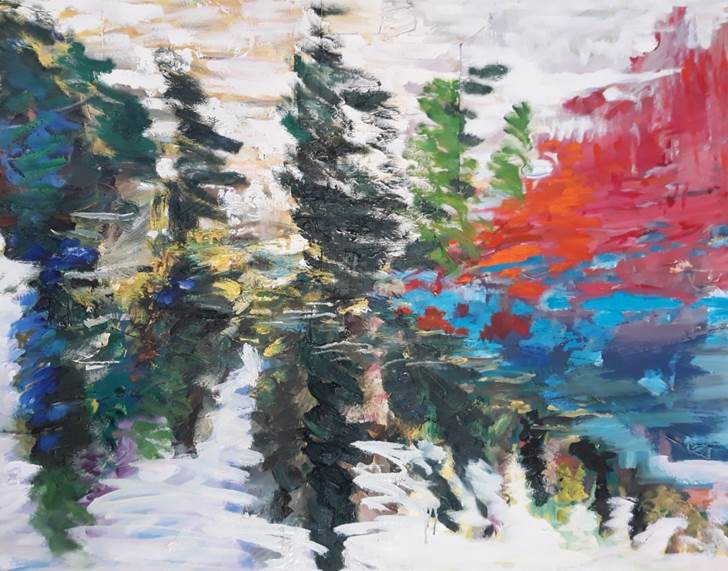 <![endif]>
Update in 2020 from a 'Study for a Portrait' 2007 2010
<![if !vml]>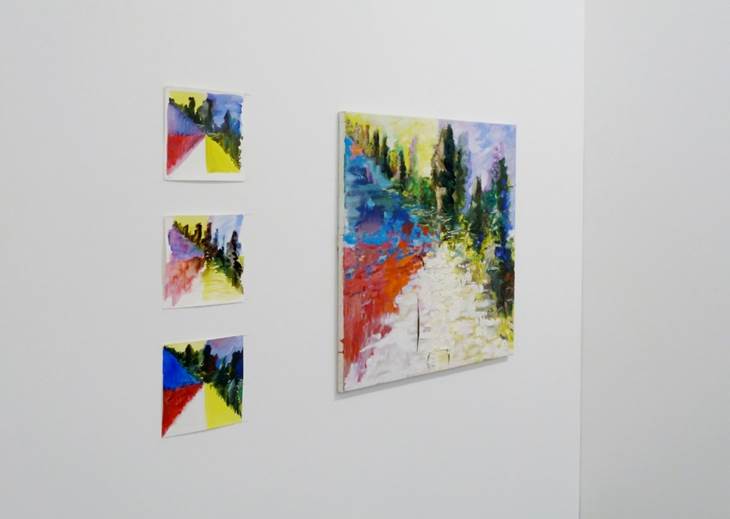 <![endif]>
Oil, tape on Linen
95 x 120cm
3 works on paper, gouache, aquarel, acrylics
Presentation in Nestruimte, DCR, The Hague, NL 2011
Francis Bacon painted his memory of Vincent in a landscape.
I painted in an earlier painting a table, a TV.
And over that came an impression on Bacon's painting after which I painted my own memory of being in a landscape. The memory I captured in sketches I made sitting on the boulders in the Drôme River in the summer of 2010
The sketches I made afterwards in the studio abstracted the shapes and composition only the colours I borrowed from Piet Mondrian got the colours from Piet Mondrian. The studio studies and the painting were presented in the group exhibition of NestRuimte.
Francis Bacon schilderde zijn herinnering aan Vincent in een landschap.
Ik schilderde in een eerder schilderij een tafel, een tv.
En daaroverheen kwam een impressie op Bacons schilderij waarna ik een eigen herinnering aan een landschap schilderde. De herinnering heb ik vastgelegd in schetsen die ik zittend op de keien in de rivier de Drôme maakte in de zomer van 2010
De schetsen die ik daarna in het atelier maakte, zijn gepresenteerd in de groepstentoonstelling van NestRuimte.
<![if !vml]>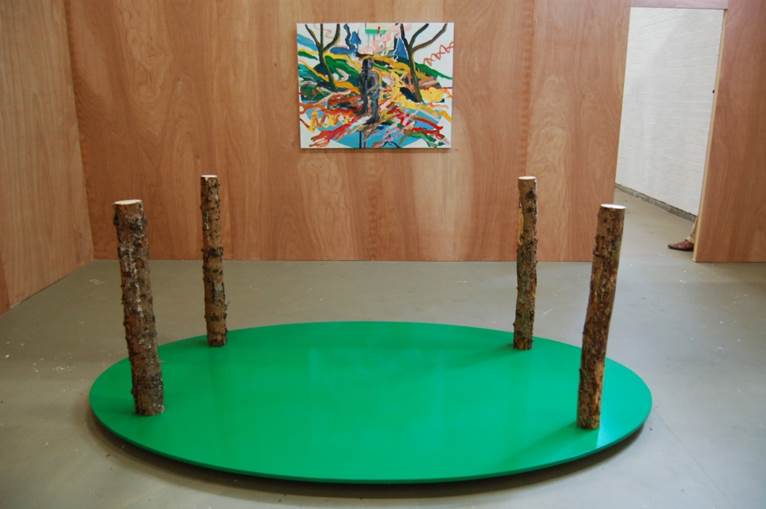 <![endif]>
Part of the installation 'Mêkh-Stream' was the painting 'Portrait Study' 2007 which became later 'Study for a Portrait' 2011
In eight rooms of the artist initiative Supermedium in Rijswijk, EX-MÊKH presents 'Mêkh-Stream'.
An Installation for the one evening project from Supermedium, Rijswijk, NL 2007
The concept of the EX-MÊKH presentation was based on the location conditions of Supermedium.
Their where 8 spaces of different sizes. We were with 4 artists. The concept played with aspects of individuality and cooperation. How would our individual work communicate towards the others and for the public. Therefore, we all got one space for a solo presentation and one space for collaboration. See more at the EX-MÊKH site.
<![if !vml]>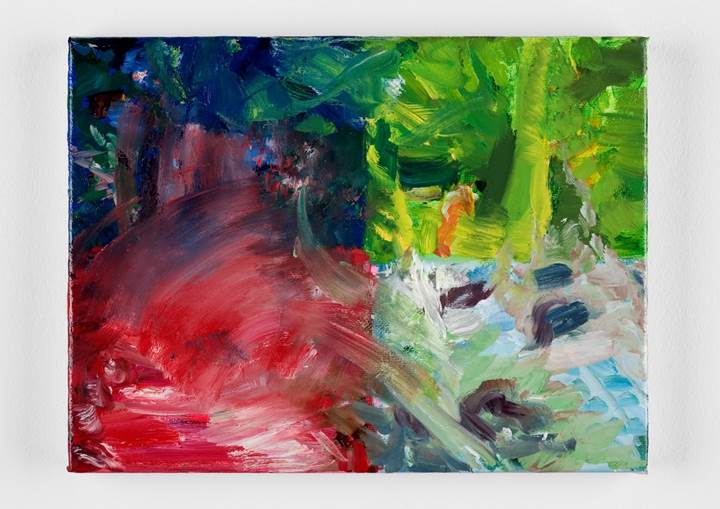 <![endif]>
Painting used in the installation 'Film directions'
More paintings from the series: Flag Moves
<![if !vml]>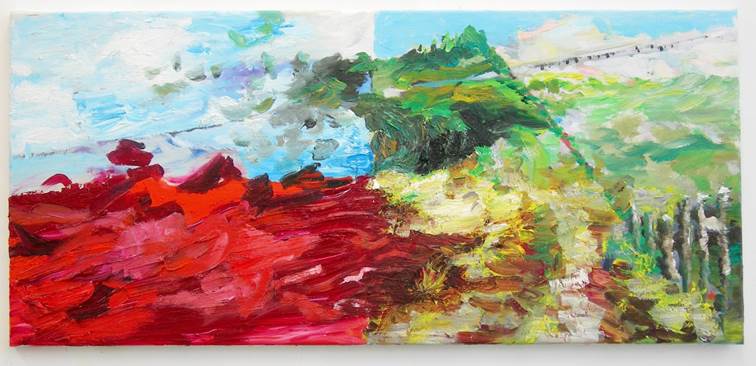 <![endif]>
Normandie
<![if !vml]>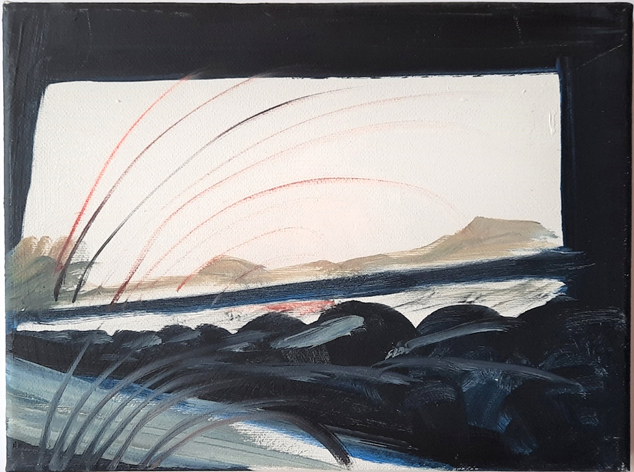 <![endif]>
It Was, It Is
18x24cm
Oil on canvas
2013
<![if !vml]>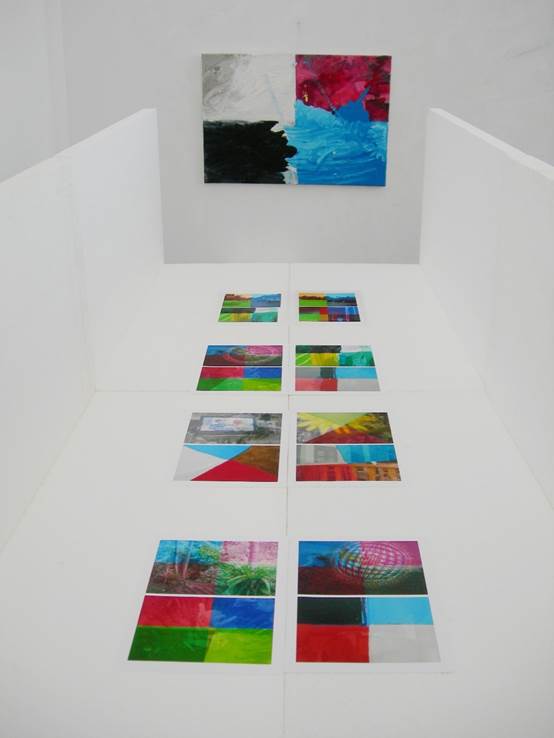 <![endif]>
Studio view: Film directions towards the Now.
Painting: Oil on canvas
Photo print on paper A4
Presented at the wall and in an installation of polystyrene panels on a table
The photos are all video stills from video's I made between 2008 and 2010. All videos were edited with colour and composition layers. I painted small canvases in 4 colour sections on which I projected a video. I filmed this again. In this way all video's got a colour filter which was obtained by a painting.
The prints of stills I used as inspiration for new paintings.
<![if !vml]>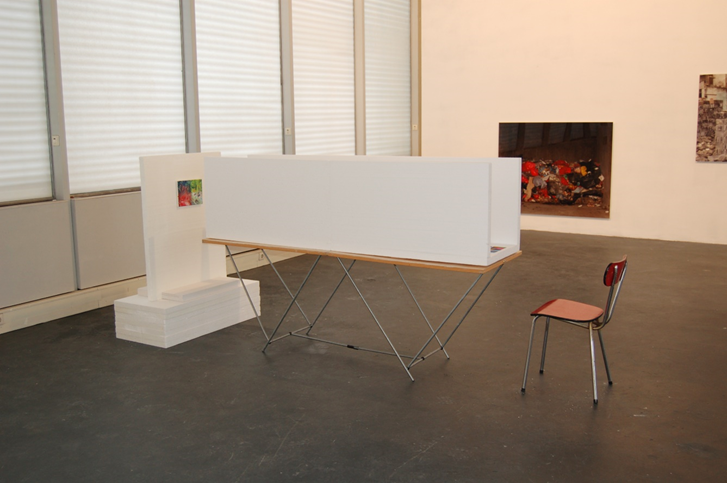 <![endif]>
Film directions towards the Now.
Installation for the EX-MÊKH project 'Todos Los Santos' 2010
Ruimtevaart Foundation, The Hague, NL
More installations in which the flag playes a role
<![if !vml]>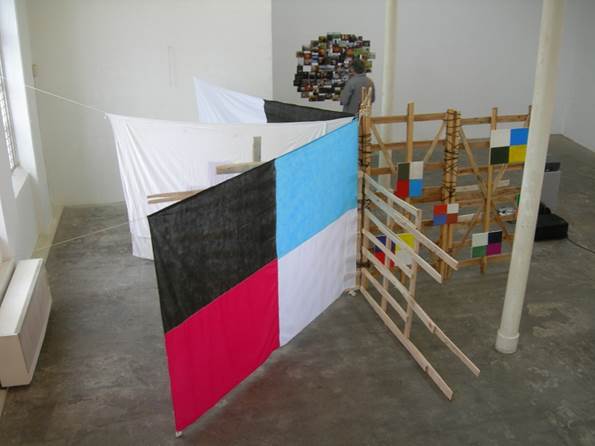 <![endif]>
Exhibition overview of an installation of EX-MÊKH 'Our Territory' 2009
De Cacaofabriek, Helmond, NL
In this installation there are also the paintings who provided a background (in two meanings) for video's as  'Cristal Archives APKeuring' (can be found on Youtube)
<![if !vml]>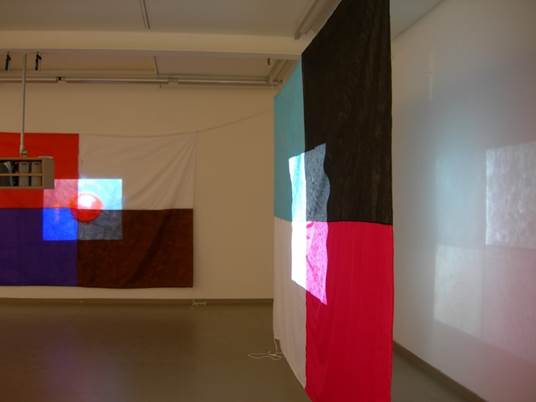 <![endif]>
Secondary Memory, Installation Heden, The Hague, NL 2009
Video, sound, fabric.