Painting 2020
<![if !vml]>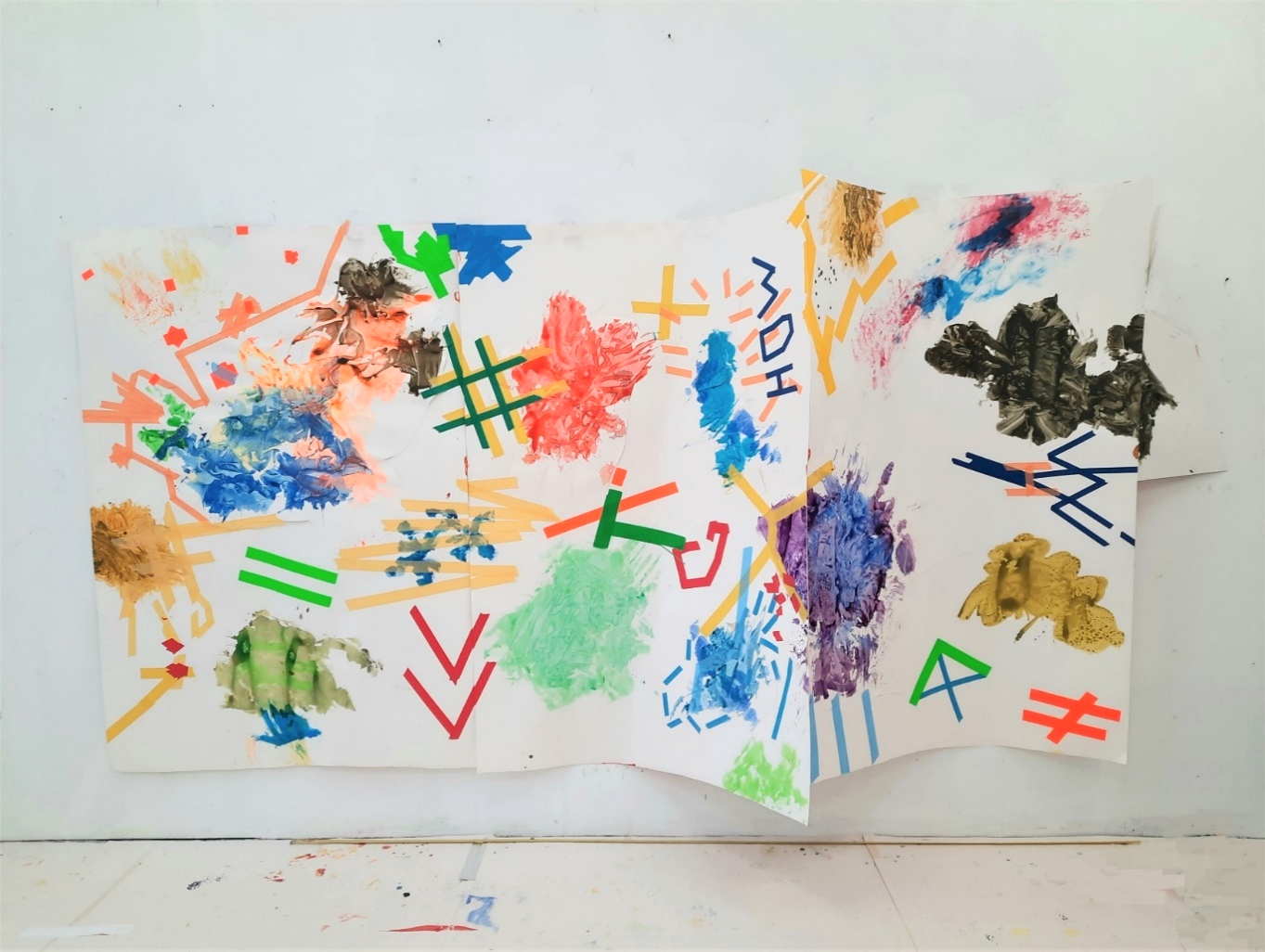 <![endif]>
Collage with printing, tape, transparent foil and hand printed painting on white ground protector cardboard.
4 parts
250x356 cm
NL
The association with the work About the Key arose when tape was added to the paint forms.
The idea of the pareidolia or rorschach test is played with.
Personal association. Is that the key?
The key also refers to key works. Which is strange when you are making a work.
The key or the impossibility of an unambiguous interpretation is hereby established.
The key also roams somewhere among all beings. A figure is enclosed in the ring part of the key.
Characters such as +, x and = refer to formulas, to what is learned.
But when everything falls apart in some kind of chaos, what do we do?
The work already shows this, making constructions and compositions, making new connections of what was once learned.
Is our personal brain the key?
To what and to whom?
The work is performed, the artist places and writes and mediates for those who dare to meet.
Eng
De associatie bij het werk About the Key ontstond toen er tape aan de verfvormen werd toevoegd.
Er wordt gespeeld met het idee van de pareidolie of rorschach test.
Persoonlijke associatie. Is dat de sleutel?
Ook verwijst de sleutel naar sleutelwerken.
Wat vreemd is als je een werk aan het maken bent.
De sleutel of de onmogelijkheid van een eenduidige duiding wordt hiermee vastgesteld.
De sleutel zwerft ook ergens tussen alle wezens. In het ringdeel van de sleutel zit een figuur opgesloten. 
Tekens zoals +, x en = verwijzen naar formules, naar het aangeleerde.
Maar als alles in een soort chaos uiteenvalt, wat doen we dan?
Het werk toont dat al, constructies en composities makend, nieuwe verbanden leggend van het ooit aangeleerde.
Is ons persoonlijk brein de sleutel?
Tot wat en tot wie?
Het werk performed, de kunstenaar plaatst en schrijft en bemiddeld voor wie de ontmoeting aandurft.
<![if !vml]>
<![endif]>
Acrylics and tape on cardboard
3 parts
<![if !vml]>
<![endif]>  <![if !vml]>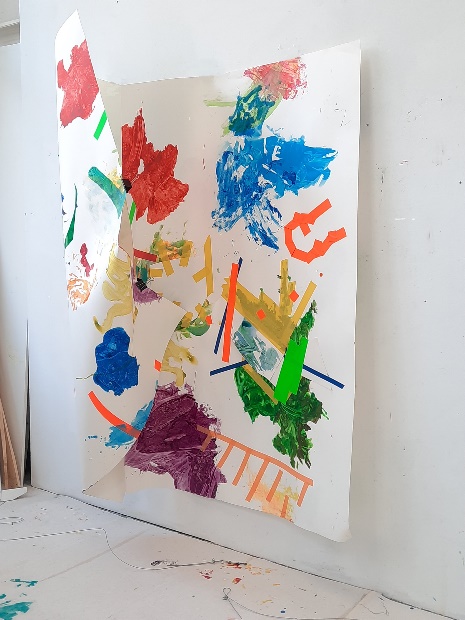 <![endif]>  <![if !vml]>
<![endif]>
 'How'
Studio view
<![if !vml]>
<![endif]>
Installation 'Fe-Maler' Vitrine U, Kleistpark, Berlin, Germany 2020
400x200x150cm
Technique: acrylic hand printed and painted on cardboard
See for concept and context: Femaler